Socorro Springs is a popular restaurant and brewery in Socorro, New Mexico. It has good pizza and other delicious foods there too.
What is Socorro Springs?
Edit
Socorro Springs is a restaurant which is named after it's city name Socorro. It is located on California Avenue and is next to Burger King, which is down the street from there. There are pizza there which is probably the most popular in the restaurant. The restaurant has 2 rooms, the brewery and party room, and the restaurant room.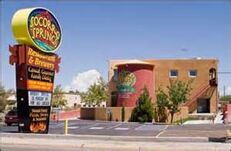 Sneek Peak of the Inside
Edit
Socorro Springs has beautiful rooms and fast service which makes it popular. Here is a photo of the brewery and party room.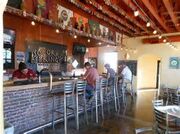 Ad blocker interference detected!
Wikia is a free-to-use site that makes money from advertising. We have a modified experience for viewers using ad blockers

Wikia is not accessible if you've made further modifications. Remove the custom ad blocker rule(s) and the page will load as expected.